Decentralised solar power can benefit farmers by improving quality of water supply and predictability of power, while for the government it can reduce power purchase cost among other benefits, says the report
According to a new report, the implementation of decentralised solar plants under the government's Pradhan Mantri Kisan Urja Suraksha evam Utthan Mahabhiyan (PM-KUSUM) programme can boost farmer incomes, help India reach 50% of non-fossil power capacity by 2030, and improve the financial viability of distribution companies (DISCOMs).
The PM-KUSUM scheme was launched in 2019 by the Ministry of New and Renewable Energy to transform India's agriculture sector by improving crop productivity and increasing farm incomes through the solarization of the agriculture sector.
The report 'Implementing Solar Irrigation Sustainably: A guidebook for state policy-makers on implementing decentralized solar power plants' was co-authored by the International Institute for Sustainable Development (IISD), Consumer Unity and Trust Society International (CUTS), and The Energy and Resources Institute (TERI). It provided practical solutions for state governments to unlock and speed up the rollout of the PM-KUSUM scheme that has been slow for several reasons, such as the pandemic-related disruption and financial constraints faced by farmers and developers.
The study found that decentralised solar power plants can be a win-win strategy for farmers, local communities, state governments, and DISCOMs.
"Solarised agricultural feeders not only improve the quality and reliability of power supply for farmers, but they also generate new green jobs that are geographically well-distributed among communities, and reduce power purchase costs for the state and DISCOMs—all impacts which increase farmers' income and improve crop productivity," said Anas Rahman, Policy Advisor at IISD and a co-author of the report.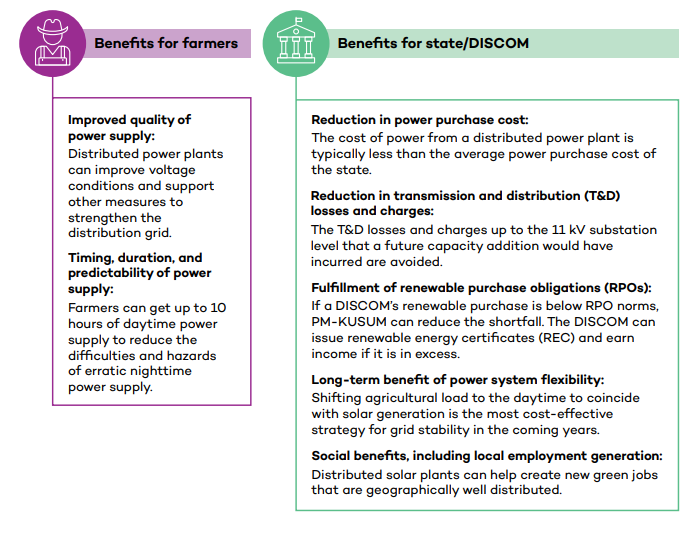 But states need a well-thought-out implementation design plan to maximise deployment outcomes and benefits, and should address the issue of financing that remains the biggest challenge to the PM-KUSUM's success, the report found. For instance, states can boost investments by reducing the risk perception of the scheme and by increasing tariffs to make returns more attractive for farmers and developers.
The report added that to ensure successful deployment of decentralised solar plants, the scheme will have to effectively allocate responsibilities among the departments concerned, facilitate information exchange, undertake infrastructure planning—like deciding the optimum capacity of the plants—and promote linkages to energy and water efficiency.
Noting that decentralised solar power plants are not yet widely deployed across the country, the study also identified areas in the implementation scheme that require on-the-ground experiments to generate evidence for policy formation, specifically in the areas of water incentives and agrivoltaics.
"It is clear that new challenges for implementation and sustainable scheme outcomes will arise in the future as more plants are deployed. It will therefore be critical for states to learn by doing—gathering data on implementation and constantly refining deployment approaches based on the data will be particularly important," Rahman said.