India witnessed the hottest February since 1901, with average maximum temperature peaking at 29.54°C. March to follow similar trend, with mercury to continue settle above normal
Hottest February shatters record, India gears up for intense heatwaves aheadIndia witnessed the hottest February since 1901, with average maximum temperature peaking at 29.54°C. This was higher by 1.7°C in comparison to the normal average temperature of 27.8°C. Average minimum temperature for February, 2023 also settled above the normal by 1.3°C and was the fifth highest during the same period.
Region-wise, Northwest and Central India bore the maximum brunt, with both regions making it to the record list of all-time high day maximum temperatures with rank 1 and 2, respectively.

Meteorologists called it a matter of deeper diagnosis but there has been a large consensus over the fact that climate change continues to aggravate the situation with increasing global mean temperatures.
"While it is a matter of research whether such high temperatures this February can be connected to Climate Change, it is very clear that we are living in the era of climate change. There is a definite impact of Global Warming on the increasing trend of temperatures," said SC Bhan, Scientist, India Meteorological Department.
February remained practically dry on account of no major weather system traveling across the country. Besides this persistence of anticyclone over western parts of India, pushed warm winds over the region. Both the factors combined together paved the way for temperatures to increase, especially over Northwest India.
As on February 27, India was highly rain deficit to the tune of 68%, with the country recording a mere 7.1 mm of rain against the normal of 21.8 mm. Central India was absolutely dry with nil rainfall, followed by Northwest India.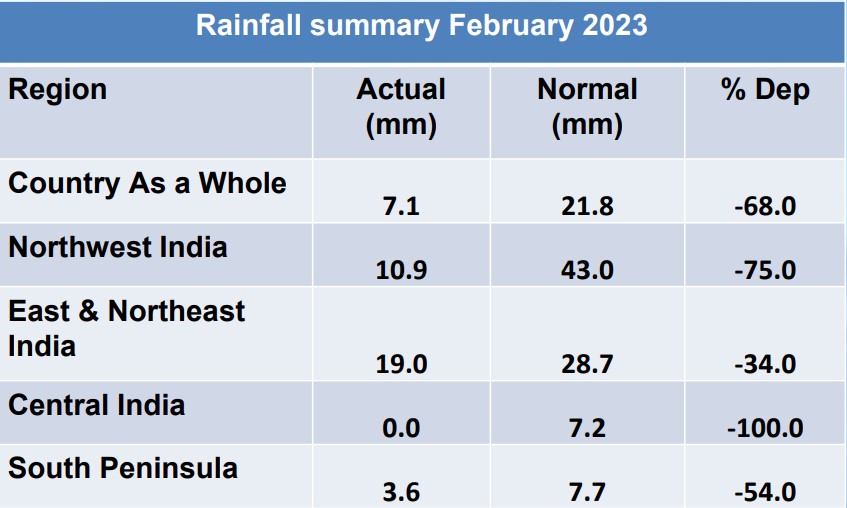 Out of 36 subdivisions in the country, 20 sub-divisions did not receive any rain, 11 were large deficient, 1 deficient, 3 normal, and 1 excess.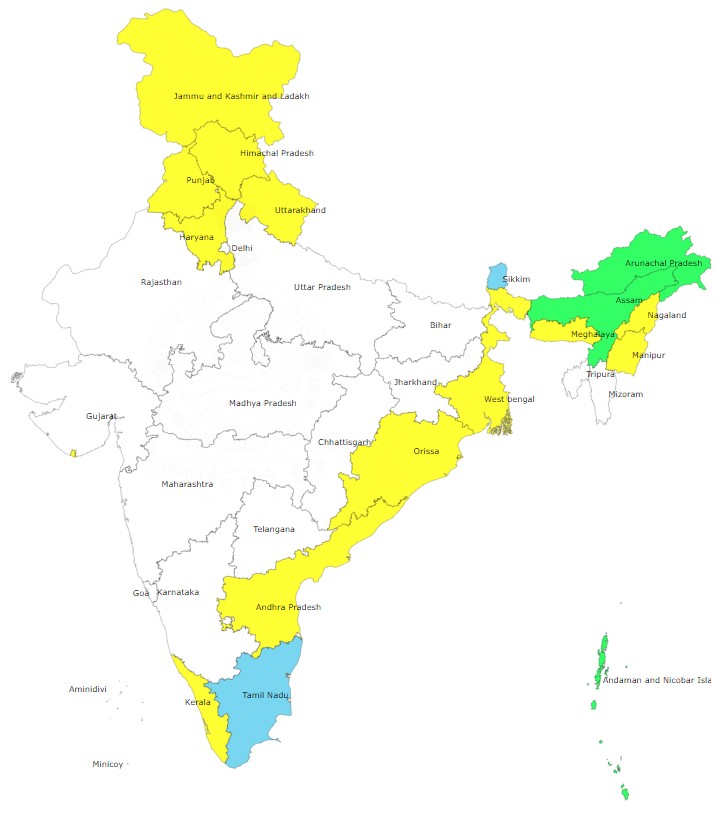 India to witness increased intensity of heatwave in 2023
According to meteorologists, the increasing trend of the temperatures is likely to continue as well as dominate in the coming summer months as well. As per the forecast released by state-run IMD, enhanced probability of occurrence of Heatwave during March to May season is likely over many regions of Central and adjoining Northwest India.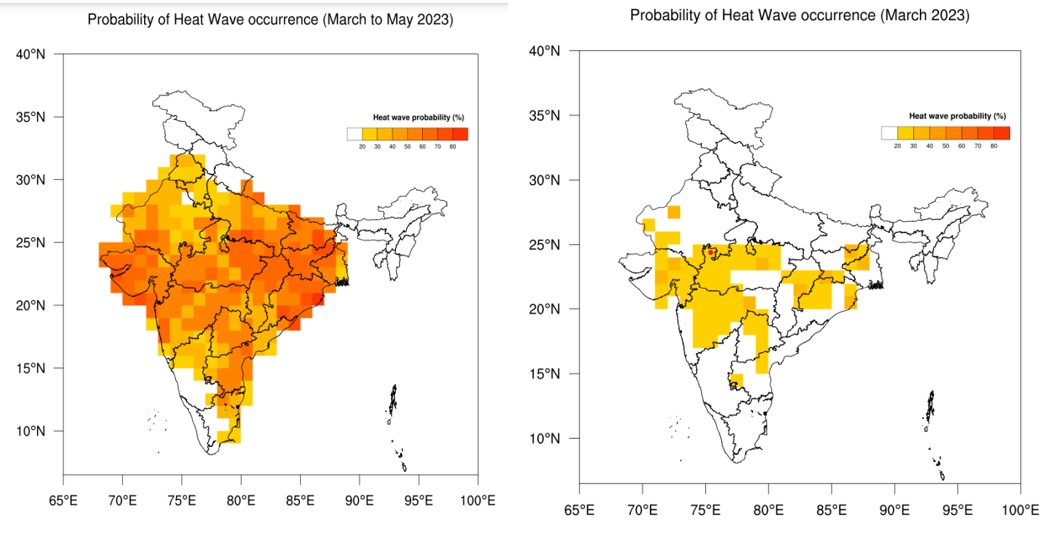 March would continue to witness above normal temperatures across most parts of the country. Heatwaves might make an early appearance in some parts of Central India. However, April and May will have to brave the spells of heatwaves. This anomaly could be attributed to below normal predicted most areas of Northwest India, and west-Central India and some parts of east & northeast India. Normal to above normal rainfall is likely over most parts of peninsular India, east central India and some isolated pockets of northeast India.
Northwest and adjoining parts continue to be in focus as they are prone to heatwave. In a normal scenario, March can be considered to be a lean period for weather activities. Usually by this time, Western Disturbances that are known to drive weather activities across the region, start traveling in the higher latitudes of Himalayas. On the other hand, anticyclone over West India gets more marked, bringing in warm winds from further warmer desert regions. All these factors lead to build up of temperatures.
"Hot weather is here to stay and we should start considering it as a new normal. It has been noticed that rains have declined during March in the last many years. Climate models are indicating similar conditions this year too. It seems that Western Disturbances will continue to evade Northwest India this year too. South India might see some rains on account of few low-pressure areas or depression in South Bay of Bengal, but these systems would not impact other parts of the country," said Mahesh Palawat, Vice President – Meteorology and Climate Change, Skymet Weather.
March 2022 was the hottest in India since records began 122 years ago. March was extremely dry, with 71 percent below normal over India, making the conditions favourable for local heating from the land surface. The heatwave continued over the month of April and reached its preliminary peak towards the end of the month. By the 29th of April, 70 percent of India was affected by the heatwave.
According to a study on heatwaves by World Weather Attribution, climate change has increased the probability of an event like heatwave in 2022 by a factor of about 30. With future global warming, heatwaves like this will become even more common and hotter. At the global mean temperature scenario of +2C such a heatwave would become an additional factor of 2-20 more likely and 0.5-1.5C hotter compared to 2022.
The 2022 heatwave claimed at least 90 deaths across India and Pakistan, and triggered an extreme Glacial Lake Outburst Flood in northern Pakistan and forest fires in India. The heat reduced India's wheat crop yields, causing the government to reverse an earlier plan to supplement the global wheat supply that has been impacted by the war in Ukraine. In India, a shortage of coal led to power outages that limited access to cooling, compounding health impacts and forcing millions of people to use coping mechanisms such as limiting activity to the early morning and evening.
This article was first published at CarbonImpacts.