According to the data compiled by the Internal Displacement Monitoring Centre (IDMC), conflict, violence and disasters triggered 38 million internal displacements across 141 countries and territories in 2021, the second highest annual figure in a decade after 2020's record-breaking year for disaster displacement
"1 in every 78 people on earth is now displaced", tweeted the United Nations Human Rights Council (UNHRC) on the release of their annual Global Report on Internal Displacement 2022. According to the data compiled by the Internal Displacement Monitoring Centre (IDMC), conflict, violence and disasters triggered 38 million internal displacements across 141 countries and territories in 2021, the second highest annual figure in a decade after 2020's record-breaking year for disaster displacement. 
Conflict and violence triggered 14.4 million movements, an increase of almost 50 per cent on the year before, while disasters led to 23.7 million internal displacements globally. Worldwide, internally displaced people (IDPs) have almost tripled to 51.3 million in 2021 from 2012 levels, the highest ever recorded. The UNHRC's count of IDPs is based on the number of movements made in a year for each displaced person, before they find a resolution.
Displacements across regions of the world
The largest disaster-led displacements occurred in 3 Asian countries – China (6 million), the Philippines (5.7 million) and India (4.9 million) – accounting for 70% of the global total, the trends were also similar in previous years. However, the report adds that most of these displacements were temporary, allowing a majority of IDPs to return to their home areas. But this wasn't the case in every region of the world. Countries like Somalia in Sub-Saharan Africa which were already reeling from conflicts became more vulnerable when disasters like floods and drought hit the population. 14.1 million people were displaced in the Sub-Saharan Africa region in 2021, while 27.2 million were IDPs at the end of the year.
The Middle East and North Africa (MENA) region witnessed 1.2 million new internal displacements in 2021 and has a total of 12.4 million IDPs, mostly fleeing from long-drawn conflicts in countries like Syria, Yemen, Libya, Palestine and Iran. The Americas had 2 million displaced people in 2021 from both conflicts and disasters, bringing the total at the end of the ear to 6.6 million IDPs. Disasters were the main trigger of internal displacements in the continent in 2021, accounting for nearly 1.7 million, more than half of which were the result of storms and floods. The region was also significantly affected by wildfires and geophysical hazards.
Floods triggered 276,000 internal displacements in Europe and Central Asia in 2021, accounting for the highest number of movements due to disasters in the region since 2012. The most significant included wildfires in the Mediterranean, storms and flooding in western and central Europe and a volcanic eruption in Spain's Canary Islands. 61,000 internal displacements due to conflict and violence is also the highest since 2016 for the region. However, Russia's military occupation of Ukraine is not accounted for in the report, which would lead to one of the largest displacement due to conflict in the region in many decades.
Out of 14.3 million displacements in the East Asia and Pacific region, 13.7 million were triggered by disasters like storms and floods, the highest figure since 2016 and above the annual average for the last decade of 11.6 million. Being home to most of the world's population, the region accounted for the majority of disaster displacements, a trend seen previously too. With a surge in conflict and violence, the displacements tripled in the region in 2021, most of which occured in Myanmar. Meanwhile, combined internal displacements from conflicts and disasters accounted for 6 million people across South Asia in 2021, and 6.9 million IDPs in all who have not returned to their home areas. The report claimed that "disasters trigger most of the internal displacement that takes place in South Asia each year, and 2021 was no exception". Nearly 5.3 million disaster displacements were recorded during the year, a relatively high figure globally but lower than the region's decade average of 6.2 million. The decrease was partly the result of a weaker monsoon season.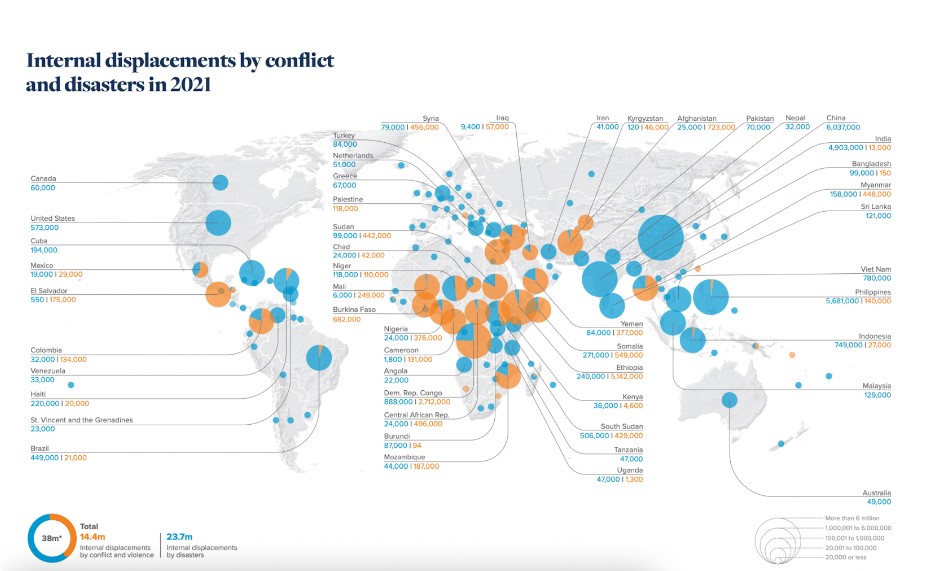 Impacts of La Niña and climate change on global displacements
The impacts of La Niña manifested across different countries for the second year in a row in South & East Asia and the Pacific region. Storms hit the South Pacific and east and south-east Asia, triggering more than 8 million displacements collectively, the vast majority in the form of pre-emptive evacuations. Floods prompted around 5.3 million. Flooding was particularly intense in China, where one event in Henan province in July triggered around 1.5 million displacements.
Storms accounted for 58 per cent of the disaster displacement recorded in the region, fuelled by a moderate to strong La Niña that started in late 2020 and has continued since. La Niña is a natural phenomenon which involves the large-scale cooling of ocean surface temperatures in the central and eastern equatorial Pacific Ocean, which changes weather patterns and brings wetter conditions than normal. According to a report, global warming has increased the frequency of extreme El Niño that provides a favourable condition for extreme La Niña. This occurs amidst faster warming over the region between the Indian and Pacific Oceans and increasing vertical temperature gradients that are conducive to extreme La Niña events. This implies more devastating weather events with profound socio-economic consequences. 
This was witnessed when climate drivers including La Niña led to an erratic and prolonged Monsoon season in India, running from June until October rather than September in 2021. The country was also hit by three major storms that triggered significant displacements, bringing the total recorded for the year to 2.5 million. Cyclone Tauktae made landfall in Gujarat on 17 May, the most powerful storm to hit India's west coast in more than 20 years prompting 258,000 evacuations and causing damage and destruction across five states and union territories. In less than a week, cyclone Yaas began to form in the Bay of Bengal, triggering another 2.2 million evacuations, primarily in Odisha and West Bengal. Yaas accounted for the highest number of displacements in India and the region in 2021, hitting areas that were severely affected by Cyclone Amphan the year before. People were still living in temporary shelters when a second powerful Yaas further destabilised their rehabilitation. Cyclone Gulab led to another 50,000 evacuations in Andhra Pradesh and Odisha.
Future projections for climate migration
A World Bank report projects that climate migration can lead to over 216 million people to move within their countries by 2050 across six regions. Projections across all the regions till 2050 find that – Sub-Saharan Africa could see 86 million internal climate migrants; East Asia and the Pacific, 49 million; South Asia, 40 million; North Africa, 19 million; Latin America, 17 million; and Eastern Europe and Central Asia, 5 million. If countries do not act fast to reduce global emissions to meet the 1.5°C target set by the Paris Agreement, climate change driven migration will accelerate in the second half of the century as the frequency, scale and intensity of extreme weather events worsen across the globe. 
With intensifying climate change, future risk of violent armed conflicts within countries will expectedly also increase, estimating that climate variability has already influenced between 3% and 20% of armed conflict risks in the past century. While scientists have low confidence in the mechanisms through which climate can affect conflicts, they agree that climate has most often increased, rather than decreased the risk of conflict. The Intergovernmental Panel for Climate Change (IPCC) in its latest Working Group II report, "Climate Impacts, Adaptation & Vulnerability" reiterated that climate change events in Asia will lead to trapped populations if they are not able to migrate. Displacement or migration is seen as an adaptation strategy when it is voluntarily undertaken by the people.
The World Bank claims that so-called 'hotspots' of climate migration will emerge within countries as early as 2030, "with climate out-migration occurring in areas where livelihoods are threatened by climate change, and climate in-migration in areas with better livelihood opportunities". UNHRC recommends that filling the data gaps on displacements is crucial to understanding the needs, aspirations and potential of these populations. The report says that countries like India, Bangladesh, Turkey and Guatemala have not verified and updated their displacement data for a very long time, making it impossible to know if any of those who fled their homes in past years or decades were still displaced as of the end of 2021. It is pertinent that governments institutionalise systems to collect more disaggregated and up-to-date information on internal displacements amidst increasing conflicts and climate related disasters. This will ensure that tailored prevention and response measures can be designed to reduce IDPs and their vulnerability.
This report was first published in Carbon Impacts.