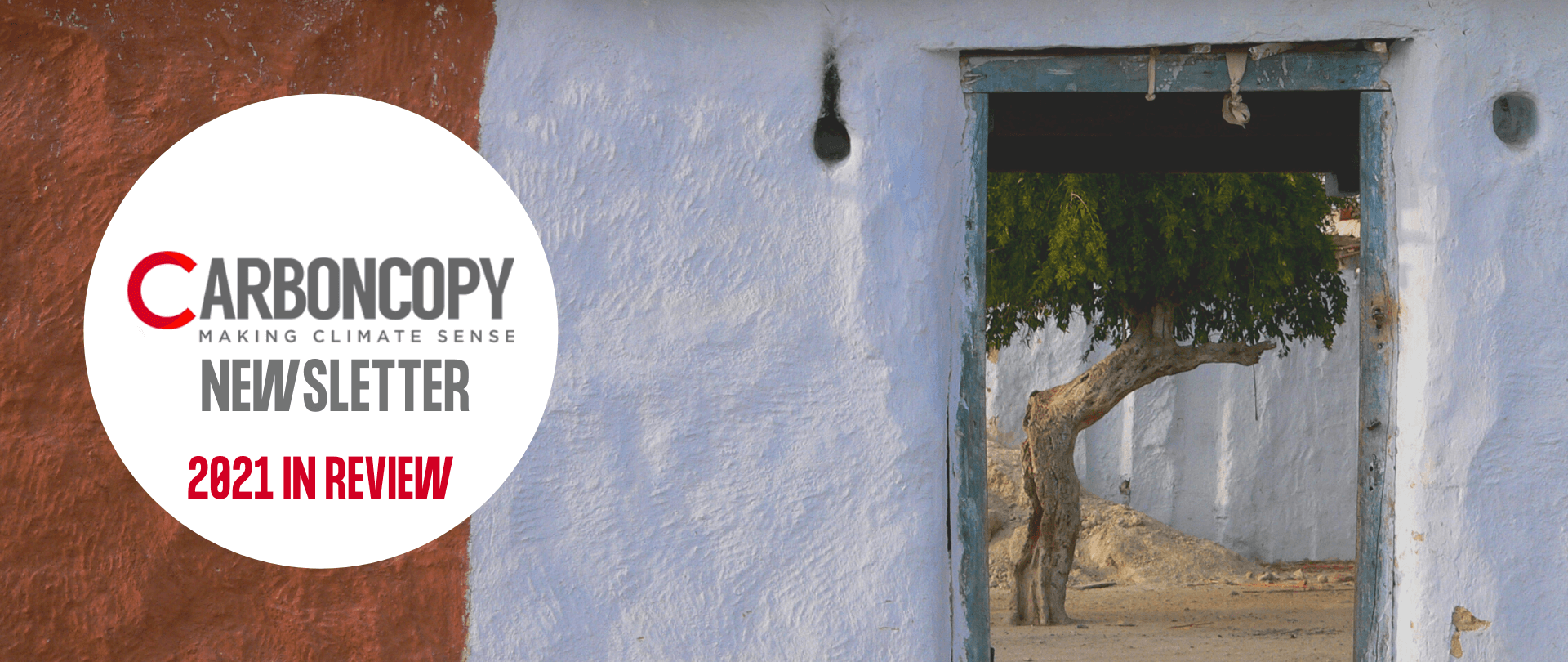 2021: A look back at the year in climate
From floods, wildfires to cyclones, extreme weather dogged most of 2021
We bid goodbye to another year in which extreme weather dominated headlines worldwide. The year began with a coldwave, with Spain reporting its heaviest snowfall in decades and Jammu & Kashmir battling its harshest winter in a long time. A study published at the beginning of the year, by Japan-based Research Institute for Humanity and Nature, estimated that the mean carbon footprint of the country's top 20% of high-expenditure households was seven times more than their poorer counterparts (earning less than ₹140 a day).
In February, Uttarakhand's Chamoli district was hit by a flash flood. While initial reports suggested the flooding was caused by a glacial break, a Geographical Survey of India (GSI) study later revealed a huge mass of rock and snow broke from a left valley of Raunthi Gad and crashed into the Rishiganga valley, triggering a flood which washed away hydropower infrastructure in Raini village. Meteorologists attributed the sudden landslide to the weather between February 4-6 when heavy snowfall was followed by sudden warmer climate. 
Impacts of climate change, though, were felt as much in the Global North this year as they were in the Global South. An icy storm froze parts of southern and central USA at the end of February. Texas, in particular, battled extreme cold, with temperatures ranging between -2°C and -22°C power outages. Major power outages were reported across the state and citizens were asked to remain at home. In June-July, the Pacific north-west, a deadly heatwave affected nearly 50 million people. Salt Lake City hit a record-breaking 107°F (42°C) only for the second time in the past 147 years. In West Germany, floods triggered by record rainfall killed at least 220 people, mostly in Germany. A subsequent study found climate change made the floods up to nine times more likely. 
Wildfires continued to rage this year, particularly in Siberia, the US and Turkey. A study found these deadly wildfires emitted 1.76 billion tonnes of carbon—more than double Germany's annual emissions and half of the EU's total annual emissions. 
In the same month, landslides, flooding and cloud bursts in Himachal Pradesh, Maharashtra and Goa killed at least 164 people. Coastal India was hit by two cyclones this year. Cyclone Tauktae made landfall on the west coast, and left a trail of destruction in its wake, particularly in Maharashtra and Gujarat. With wind speeds as high as 157 kmph, Tauktae killed more than 50 people. Scientists linked the intensity of the cyclone to climate change. On the country's east coast, Cyclone Yaas hit Odisha, West Bengal and Jharkhand killing 14 people. According to experts, Indian seas have recorded higher than normal temperatures recently, thereby creating conditions that are conducive to frequent and rapidly intensifying cyclones.
India's monsoon season, which staggered and stretched from early June to late October, too bore deep impressions of climate change. The season was marked by poor temporal and spatial distribution as wild swings between dry spells and extremely wet ones saw massive episodes of flooding and damage across the country.
The year began winding down with some devastating news. In August, an Intergovernmental Panel on Climate Change (IPCC) report revealed there are no pathways left for the world that can limit warming to 1.5°C without crossing the threshold first. Warming beyond 1.5°C will be breached in the next couple of decades, the report warned.
For India, the year ended with the northeast monsoon recording 143.4% excess rain between November 1 and November 25, with flooding reports in Chennai and parts of Andhra Pradesh. For the second consecutive winter, however, La Niña is set to prolong the season and experts are blaming climate change for it. Experts believe La Niña has an impact primarily on winter rain over North India and will also lead to less snowfall over Western Himalayas.
Climate action took centre stage this year, but spotlight still not bright enough
2021 was the year of the all-important COP26. From the very beginning, the UN and governments around the world seemed determined to make climate a top issue. The year began with Joe Biden becoming the president of the United States of America. And his first order of business was to rejoin the Paris Agreement. He also made climate change a national security priority, and rolled back more than 100 environment regulations formulated by the Trump administration. 
In February, India's budget was announced and it was bad news for the environment. The Centre slashed the environment ministry's budget for 2021-2022 to ₹2,869.93 crore, much less than the previously allocated ₹3,100 crore. Schemes such as the Climate Change Action Plan (CCAP), National Adaptation Fund (NAF) and Integrated Development of Wildlife Habitats (IDWH) suffered major cuts. The only increase was seen in the budgetary allocation for 'Control of pollution' and the National Coastal mission.
China, meanwhile, reinstated climate expert and veteran negotiator Xie Zhenhua as its climate envoy, a move seen as a response to the US' appointment of John Kerry as its special climate envoy. This has so far worked out well for the shaky US-China relationship, and culminated with both countries vowing to work together to enhance their climate action in the coming decade. 
The EU adopted its 'Fit for 55' climate plan in July. The plan includes a series of packages that will make the region's policies on climate, transport, energy use, taxation and land use suitable for greenhouse gas emissions to be reduced by 55% by 2030, compared to 1990 levels. 
The trend of net-zero announcements, which was at its peak in 2020, spilled into this year as well. Germany vowed to do it by 2045, while the USA pledged to go carbon neutral by 2050. UAE became the first Gulf petro-state to commit to a fully decarbonised economy and achieve net zero by 2050. Saudi Arabia vowed to do it by 2060 along with strengthening its carbon target in the next 10 years. Russia committed to become carbon neutral by 2060 as well. At the COP26 in November, Indian Prime Minister took the world by surprise by committing to net-zero by 2070. 
The year ended on a bittersweet note. There wasn't a lot that was achieved at the much-hyped COP26. While the conference did finalise a rulebook on how to implement the Paris Agreement, issues related to climate finance, and loss and damage, which have been the cause of rising tensions between the Global North and South, still remain unresolved.
Despite grand spending plans, air quality remains grim in India in 2021
Devastated by the pandemic the world was double-masked this year. A Lancet study established that COVID-19 predominantly transmitted through air.  The Energy Policy Institute at the University of Chicago (EPIC) research concluded that air pollution can reduce the life expectancy of Indians by nine years inhaling pollutants that are 10 times worse than anywhere else in the world. The study added that clean air policies can add up to five years to people's lives.
Burning fossil fuels causes one in five premature deaths globally, about 2.5 million people die in India annually, stated a Havard study.  Greenpeace and Swiss firm IQAir analysis revealed that air pollution caused around 54,000 premature deaths in New Delhi last year. Over 120,000 people died all over India, according to the report. The worrying linkages between air quality and mortality were expanded further in a study published in the medical journal The Lancet which found that an estimated 349,681 pregnancy losses per year in south Asia were linked with air pollution. 
In France, a landmark court ruling for the first time cited air pollution in an extradition hearing as it stopped the deportation of a Bangladeshi man with asthma after his lawyer argued that he risked the possibility of premature death because of the dangerous levels of pollution in his homeland.  New research revealed that teenage girls exposed to high levels of biomass burning are shorter in height in the following years.  Air pollution from European coal plants could be causing nearly 34,000 premature deaths and a US research found that air pollution from agricultural activities, including animal farming, causes more than 17,000 annual deaths across the United States. 
In India, the Centre allocated ₹2217 crore to fight air pollution in 42 cities with over a million residents this year. Last year's budget was ₹4400 crore, most of which was not spent. The National Clean Air Programme (NCAP), however failed to make a mark on pollution levels in the country. For the third consecutive year, New Delhi was the world's most polluted capital in 2020, according to IQAir.  Thirty-five of the world's 50 most polluted cities were found in India.  The study found that around 54,000 premature deaths were reported in New Delhi in 2020. The Delhi government's Cabinet approved a real-time source apportionment study to curb air pollution in the National Capital Region (NCR).  64% of PM2.5 descends into Delhi from neighbouring states, according to a source-apportionment study.
While the country has put its weight behind the expansion of liquified petroleum gas for household consumption and cooking in an effort to move away from more polluting bio-fuel sources, a comprehensive survey conducted by the Council on Energy, Environment and Water (CEEW) survey found that 86% of households in urban slums in six Indian states have LPG connections, but only about 50% use them. 
Despite the growing disrepute of coal power, the Indian government one again extended deadlines for coal power plants to install emission reduction technology by three years. The deadline had already been extended by 5 years from 2017 to 2022. To fix the issue of government accountability India's green court, the national Green Tribunal, has constituted an eight-member National Task Force to monitor remedial steps to improve air quality. The Centre allowed some of the most polluting industries to expand their operations by simply providing a "no increase in pollution load certificate". According to a new study, air pollution costs Indian businesses $95 billion annually. 
The Indian Parliament approved the setting up of the Commission for Air Quality management in the National Capital Region and the Adjoining Areas Bill 2021 that for the first time formally considers air pollution on 'airshed' basis, i.e. the entire area over which the pollutants disperse due to meteorological and geographical factors, beyond state boundaries. 
India plans to broaden the number of ambient air pollutants it monitors to include ultrafine particulate matter smaller than PM 2.5 by 2022. Currently, India monitors eight pollutants, which include PM 2.5, PM 10, nitrogen dioxide, sulphur dioxide, ozone, carbon monoxide, benzene and ammonia. Air quality data from last year's Covid-19 lockdown will be used as the baseline for India's planned revision of air quality standards. 
Meanwhile, stubble burning has been decriminalised.  A study by EPIC found that air pollution in Delhi was significantly higher (20 times the WHO levels) than the levels reported by the nearest outdoor government monitors.
The World Health Organisation (WHO) released revised and more stringent global Air Quality guidelines saying air pollution damages health, at even lower concentrations than previously understood. The annual PM2.5 levels have been halved to 5 ug/m3 from 10 ug/m3 (2005), while daily mean has been set at 15 ug/m3 from 25 ug/m3 (2005). The latest report on the climate crisis by the Intergovernmental Panel on Climate Change (IPCC)'s declared that air pollutants continue their meteoric rise across India.
Bolstered by lofty ambitions, clean energy enjoys post-pandemic momentum
At COP26 India raised the Nationally Determined Contribution (NDC) target of non-fossil energy to 500 GW by 2030 from the earlier 450 GW. India also said it will achieve net-zero by 2070. Power minister said India will have around 450 GW from solar and wind, while 70-100 GW will be from hydropower. India plans to extend the renewable purchase obligation (RPO) regime from 2022 to 2030 to achieve the 500 GW target. According to analysts, achieving just the solar target of 300 GW by 2030 would require India to install 28 GW of new solar capacity annually from 2022 onwards, three times higher than the capacity installed in any given year. The Solar Energy Corporation of India (SECI) received additional ₹1000 cr in the budget, which would allow it to float 15GW of tenders on a yearly basis.
To achieve renewable energy goals and net-zero emissions by 2050, India needs judicious planning of land use for solar and wind generation today, cautioned a new report by the Institute for Energy Economics and Financial Analysis (IEEFA) adding that with a 2050 net-zero target, solar in India could occupy around 50,000-75,000 sq.km of land, while wind could occupy 15,000-20,000 sq.km.
The country has now proposed new renewable energy rules to boost the RE sector, including allowing purchase of hydrogen to meet the Renewable Purchase Obligation (RPO). The Centre also categorised waste-to-energy plants as renewable power. IEEFA stated India will fall way short of meeting its targets to install two million off-grid solar irrigation pumps in the agricultural sector by 2022 as farmers fail to access loans because banks do not consider farmers' land to be strong collateral against a loan.
With just 101 GW of renewable energy capacity in place, the government plans to set up 'Mission 500 GW' to achieve its declared target of 500 GW by 2030. According to the Centre, solar energy projects totalling 107.46 GW are either installed or under various stages of implementation or tendering.
India aims to export solar equipment for which the government plans to increase the production linked incentive (PLI) to domestic manufacturers to ₹24,000 crores from the existing ₹4,500 crores.
World's largest coal company Coal India Ltd (CIL) has decided on vertically integrating its solar projects with its coal operations as it plans a foray into manufacturing of solar components. Energy major Adani Green Energy Ltd (AGEL) also announced that the company will set up 45GW of renewable energy by 2030 while its competitor Reliance Industries also announced a massive investment of $10.1 billion in clean energy over three years in a move to become net carbon zero firm by 2035. Reliance will also build solar capacity of at least 100 GW by 2030. The domestic solar manufacturing sector alleged that India's PLI programme was meant for bigger players, and won't allow smaller manufacturers to mushroom.
In some worrying news, subsidies to the renewable sector have dropped by nearly 45% in India since they peaked in 2017 and the government needs to revive them urgently, stated a recent study. According to IEEFA, India's launch of a short-term power market will make it easier for renewable project developers to enter into offtake arrangements with DISCOMS without requiring the signing of long-term contracts with discoms for the financial closure of projects.
India will spend $200 million till 2025-27 to promote the use of hydrogen, reported Reuters. To achieve net-zero emissions by 2050, India needs to generate at least 83% of its electricity from (non-hydropower) renewables sources by 2050, stated the Council on Energy, Environment and Water (CEEW).
With land acquisitions delaying solar projects, state governments are turning to aquatic bodies to float solar panels, which is causing an irreparable loss of biodiversity, reported Mongabay. The Indian Institute of Technology-Delhi estimated that if India deploys 347.5 GW of solar panels by 2030, around 2.95 billion tonnes of solar equipment could enter India's electronic-waste stream by 2047.
In neighbouring China, despite the pandemic, new wind energy additions in 2020 were more than the whole world had set up in 2019. In the US, developers built 16.5GW of new wind capacity last year. With less than 1% of the country's energy coming from renewables now, major oil-producer Saudi Arabia plans to generate 50% of its energy from renewables by 2030. The IEA said even if all current net-zero pledges by countries were realised, the world would only achieve 20% of the emissions cuts by 2030 required to hit the goal of net-zero emissions by 2050.
A bullish year sees groundbreaking sales, sweeping new commitments
What a great year for the future of transport! EVs rebounded strongly after dismal 2020 and crossed 10% of new vehicle sales globally for the first time ever. Leading the pack was Norway, where 90% of new cars sold are now electric and it could reach 100% by April 2022 — three years ahead of schedule. The Indian states of Gujarat and Maharashtra announced very forward-looking EV policies, and the country is developing super low cost EV chargers and installing EV chargers at every highway toll plaza. The biggest moment for the market, however, was that Tesla is now officially registered in India. 
Elsewhere, the new German government will phase out new ICE sales by 2035 and even the country's oil lobby is on board with it. The famous German sportscars do get an exemption, though. The US will spend $7.5billion by 2030 to install 500,000 EV chargers from coast-to-coast, with even its top utilities joining forces on the expansion. Carmakers reached deeper into their coffers and Ford, GM, Toyota and Nissan will together spend $105 billion in switching to EV manufacturing. And Tesla's valuation soared to beyond $1 trillion for the first time as car rental firm Hertz's order of 100,000 Model 3s stamped a strong approval on the economics of the electric powertrain. 
Of course, there were a few hiccups. Victoria followed South Australia to impose a per-mile EV tax that, not surprisingly, upset EV buyers and would raise their yearly cost of ownership. But much worse was the New York Times uncovering that, apparently threatened by Tesla, Toyota had financed a FUD (fear, uncertainty and doubt) campaign to sabotage EV sales and somehow shore up hydrogen fuel cell vehicles. 
Nevertheless, stellar progress was made with the EV technology itself as Rolls Royce tested the world's fastest, all-electric aircraft that tops out at 623 kmph. United Airlines ordered 100 electric passenger aircraft from Sweden's Heart Aviation in what is bound to be a milestone for commercial air travel. And Daikin announced a new refrigerant that might just unlock 50% more range for EVs. There's a lot to look forward to next year!
Incredible firsts in the bid to divest from fossil fuels, but old habits die hard
2021 saw some incredible progress away from fossil fuels, but shaking them off completely is a long way off
The Indian home minister started off the year by claiming that coal would play a major role in India's energy needs till 2050, but the tepid response to the coal block auctions indicated otherwise. The Norwegian government offered bids for more oil and gas licences off the country's west coast (very close to the Arctic), despite climate activists's warnings about the dangers of an oil spill in a region that would be incredibly difficult to clean up. Speaking of which, an oil spill from a burst undersea pipeline caused an infernal fire in the middle of the Gulf of Mexico and may affect the local ecosystem for decades. Yet Mexico's Pemex openly denied that there was any leak at all and the country continues to favour fossil fuels over renewables to create jobs. 
Yale University found that six years after the Paris Agreement, US fossil fuels companies were receiving $62billion in implicit subsidies every year as they didn't have to pay for the fuels' environmental or public health impacts. Also, scientists found that the 20% higher life cycle emissions of blue hydrogen in fact makes it dirtier than conventional natural gas or diesel, and it's thus a mere distraction from actually cutting emissions. 
Moving on to the positives. France banned domestic flights under 2.5 hours and the passengers will instead be ferried by train (also in Germany) as the EU tightens the squeeze on avoidable transport emissions. Sweden's HYBRIT, meanwhile, handed Volvo the world's first shipment of green steel (made by harnessing energy from hydrogen instead of coal) in a trend that could gradually decarbonise industrial manufacturing. Shipping giant Maersk categorically said that transition fuels are "simply not relevant" and is switching to green methanol to go for a carbon-neutral fleet. 
On the political front, new US president Joe Biden kicked off his term by cancelling the cross-border permit for the contentious, $8 billion Keystone XL pipeline, effectively killing the project. The US will also stop funding overseas coal, oil and gas projects and its power sector may go carbon-free by 2035, while fed up shareholders managed to place three climate-friendly directors on ExxonMobil's board in a major coup. And finally, in a landmark judgement, Royal Dutch Shell was ordered by a Netherlands court to finally demonstrate absolute emissions reduction instead of merely lowering its emissions intensity.