There's a growing need to to strategically plan for a just energy transition and simultaneously build a green economy in Angul, which currently accounts for 12% of India's and 56% of Odisha's coal production, said the report
Odisha's biggest coal producing and key industrial district, Angul, must develop a 'just transition plan' to prevent job/income loss, strengthen the local economy and boost government revenue, said a recent report by The International Forum for Environment, Sustainability and Technology (iFOREST).
According to the report, Angul currently accounts for 12% of India's and 56% of Odisha's coal production. Coal production in Angul is expected to increase nearly 3 times in the next 10 years, reaching over 300 million metric tonnes (MMT) by 2033. The district is also a major power producer, and a steel and aluminium manufacturing hub. Coal mining and industries collectively account for about 61% of the district's GDP.
While coal will continue to play a major role in the district's economy in the next two decades, post 2040 mines will start closing. Coal-based thermal power units will start closing after 2025 due to age and their inability to meet environmental norms. Currently, an estimated 168,000 people are engaged in coal and coal-based industries, the report said, with nearly 69% of them being informal. Therefore, there's a growing need to diversify the economy through proper planning to support the communities in case of a coal phase-out. The report pointed out that Angul-Talcher has been a critically polluted area. That's why environmental remediation and pollution mitigation must be a key focus while building the new economy.
What's in the plan?
Talking about the just transition plan laid out in the report, Chandra Bhushan, President and CEO of iFOREST said, "We have outlined a long-term just transition plan spanning over the next three decades, which can aid a strategic phase-down of coal mining and coal-based power production, green the economy, create high-quality jobs, and improve the district's environmental conditions. This will be also essential for enhancing Odisha's climate change action."
The report recommended that Odisha should use cheap coal to build the backbone of the green economy and invest in grey hydrogen, coal gasification, electric vehicles and battery storage. The green industrial transition can be planned in two phases—a 'Brown Phase' and a 'Green Phase'. During the brown phase (the next 10-15 years), the focus should be to build the backbone of the green industry using coal in the most environmentally responsible manner. Post 2035, industries in Angul must move to a green phase, with the focus to shift to renewables, green industrial processes, and maximising material circularity.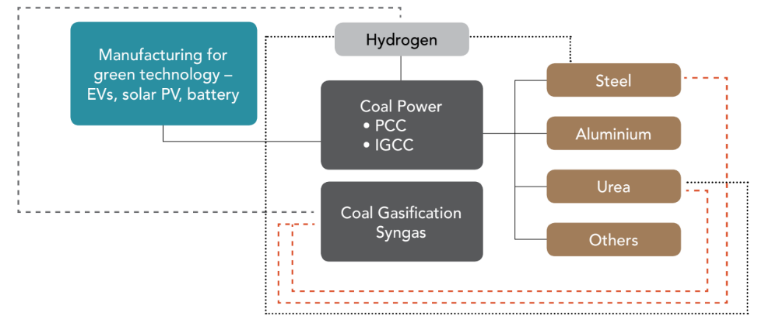 Angul will not experience major job loss till 2040. In fact, there will be a significant increase in coal-dependent jobs over the next 10 years. To meet the skill requirements of both the brown and green economy, the study recommended significant investments in skilling programmes and technical education are necessary.
Following the closure of coal mines and thermal power plants over the next three to four decades in Angul, about 33,000 hectares of land can be available for repurposing. Repurposing of mining and industrial land will be crucial for environmental sustainability, industrial development, and economic diversification, the report stated.
Among other recommendations the study pointed out that pollution mitigation, environmental remediation, and circular economy practices will be essential to support sustainable growth.
Climate finance, obviously, is a crucial part of any such process. Massive financial resources will be necessary for implementing just transition measures in Angul. This must be leveraged by optimising coal mining related funds, fiscal support of the government, private financing, and international support. According to the report's calculations, even with an accelerated coal phase-down by 2050, nearly ₹3 trillion (US$ 38 billion) will be potentially available to support just transition. Responsible social and environmental investments will be important for building community resilience and ensuring environmental justice, concluded the report.